Process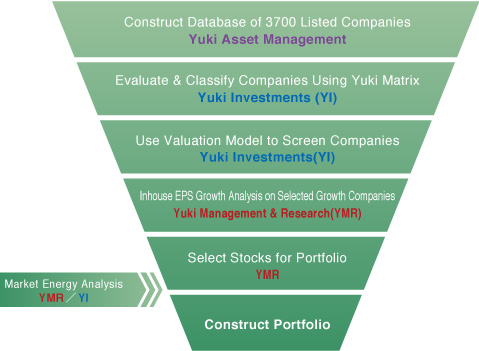 ①

Yuki Management & Research (YMR) strives to provide the highest quality of investment management service, receiving investment advice from Yuki Investments pursuant to an investment advisory agreement, using that firm's valuation model to classify the 3700 listed companies and narrow down to growth companies.

②

Based on a particular investment strategy, YMR formulates an investment management plan, and conducts rigorous bottom-up due diligence on the "Growth Universe" companies identified in ① above, producing our own EPS estimates, narrowing down the prospects, analyzing the market energy and determining which stocks to select for the portfolio.

③

Based on decisions reached in ② above, execute buy & sell orders, resulting in the construction of a portfolio that aims to diversify risk, which is fundamental to overall diversification.